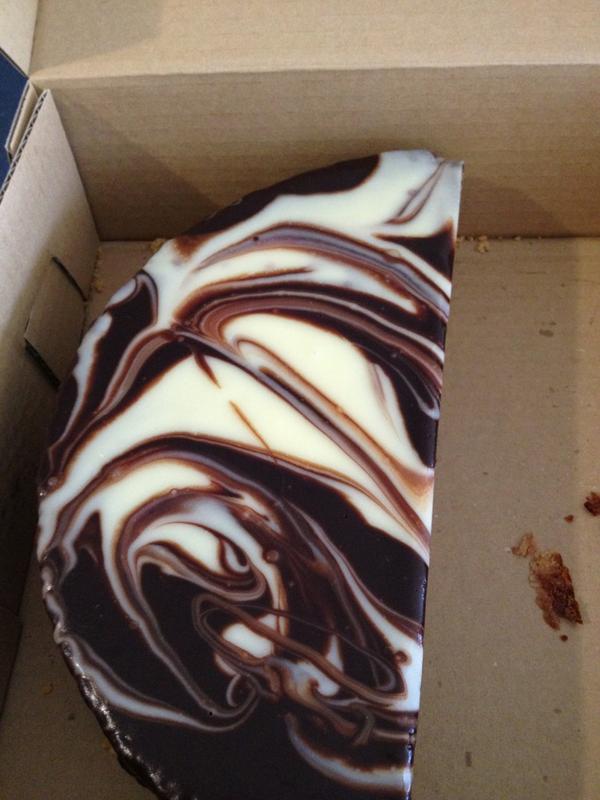 I woke up this morning to hear that Tansy won The Washington SF Association Award for "The Patrician" from Love and Romanpunk! The win was announced this morning (last night their time) at Capclave. Tansy and I had made a deal regarding cake and so this morning, I hopped out to the local cake shop near my place and bought this:
I'll take the rest in to work tomorrow where there will be much enjoyment of free cake
We've decided to have celebratory cake as a thing. When we went to Amelia's leaving party the other week, her housemate baked her a cake and muffins to make the final 30 000+ words she'd written to finish her second book whilst here. (The muffins were for the "+" – 1 cake per 30 000 words). And there were candles and singing "Happy novel" and I thought how great it was to have some kind of ceremony to stop and go "hey, no matter what happens, I did this thing here." And I really like that. And so … cake.
And I think the cake act will be marking a few more achievement moments along the way from now on. I just have to figure out how to do a low calorie version.
I've had so much going on lately I feel like I am constantly running. This year is a bit out there like that. I think next year I'd like to not have to make decisions. Or at least, not decisions where either outcome is perfectly fine – like, do you want this table here … or like this over here? Or, what colour tablecloths? Or what time should coffee be served etc etc. You have to make so many decisions and I feel like taking positions on half of them seems like more effort than just not having had to decide at all. On the other hand, I worry that I'm being too laid back about it all and I'll regret not having cared so much about this later. Like that I don't tend to actually enjoy being in the moment. Or something.
Yesterday I went for my fitting for my wedding dress for alterations. And now it looks like *my* dress – it's been shortened (with pins) and taken in here and there and what have you. And. Wow! That's MY WEDDING DRESS. It's really surreal. And I went in at the crack of Saturday morning and there were brides and friends of brides swarming all over the place. It's just the oddest thing – life, I guess. Where you end up sharing these momentous points in your life, like getting married or having a baby or whatever, with other people who at this point in their lives and that's what bonds you. And I dunno. It's weird. Anyway, the dressmaker was lovely and clearly knew exactly what she was doing, which was reassuring. And then she told me her life story which was fascinating.
I also took a visit to the celebrant and lodged our paperwork and made all the ceremony decisions (well most of them.) So … I think we're really getting married. It's all so very odd. You spend so long doing that whole singles and dating and in and out of relationships and whatever and then to finally meet someone who you want to spend the rest of your life with and who wants to do the same with you – it's really still very hard to get my head around. Like … oh wait? I can actually talk about wanting to have children and a family with you? I can actually talk about making plans for two years down the track? So very weird.
And so very lovely.